How is the program delivered?
The program is delivered using:
online videos that you watch on your own time,
bi-weekly group Q&A webinars, and
1:1 coaching sessions.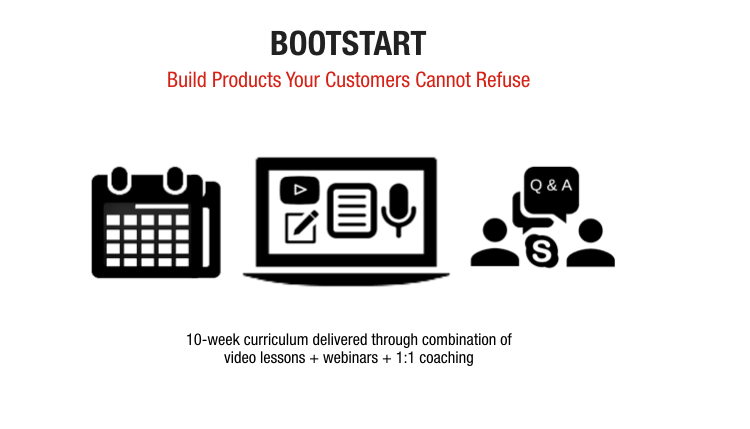 How many 1:1 sessions will we have during the program?
We will set up an initial diagnostic session to baseline your current progress and set a 90-day goal. We will also determine the right cadence for us to meet regularly. For most teams, that is every 2 or 3 weeks. That means we will typically meet 4-5 times with you.
The goal of these sessions is not discussing strategy, but results. This means, you will be expected to design and run experiments during the sprint which we'll review together. In between 1:1 sessions, you can always reach out over slack/email (and a call, if necessary) if you get stuck on anything.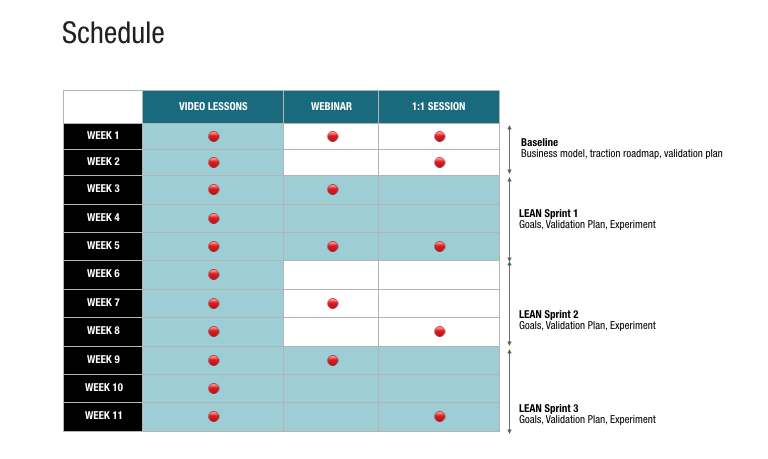 How much does the program cost?
The tuition is $3,000 for up to 5 team members working on the same project.
People compare the learnings from this workshop to an accelerated MBA. MBAs cost tens of thousands of dollars. Do the math yourself. If you're able to shed months off your idea validation (our promise), that also adds up to tens of thousands of dollars.
For the startup entrepenur, forget going to Harvard Business School (FYI, I am an MBA graduate of HBS). Apply these concepts instead. Had I done so, I know I would have saved myself much time, money, and the attendant dead brain cells. - Z. Bynum (Charlotte, NC)
Why should I join this program? Can't I get the same learnings from your books and videos?
For the same reason that we attend schools and university, or elite athletes hire coaches -- for experience, advice, and external accountability.
While > 80% of the content is built upon the core principles covered in our books and videos, tactics are always evolving and specific to the type of product you are building. During the bootcamp, we baseline your specific business model, and help you formulate a custom-tailored validation plan.
Is this a remote or onsite bootcamp?
The bootcamp is run 100% remotely using webinars for group interaction, Slack for questions, and Skype/Google Hangouts for 1:1 sessions. And, of course, LEANSTACK tools for tracking your business model, ideas, and experiments.
What is your refund policy?
Due to the high-touch nature of this program, we only accept 10 teams at a time. As a result, we have a no refunds policy once the program starts. This is why we ask you to carefully consider the program fit during the application process. We understand that circumstances change and if you find that you need to defer the program to a later cohort, we can accommodate these request to the next available cohort.
How do timezones work?
We've put teams from South Africa to New Zealand through the bootcamp and most timezones are workable. We factor the timezones of students into the time selection for webinars as much as possible. All webinars are also recorded with replays made availble afterwards. All 1:1 sessions are coordinated to mutually fit. Everything else is handled asynchronously over tools like Slack and the LEANSTACK platform.
Can I participate with my team?
Yes. You'll need as complete a team as possible (hacker + hustler + designer) to implement the ideas in the bootcamp. That said, this bootcamp is intended for smaller teams (up to 5 people). We run separate bootcamps/workshops for larger teams and enterprise clients.
How much time will I be required to dedicate to this bootcamp?
Depends on your goal. For the full experience participants (those running LEAN Sprints), I recommend being full time or as close to it as possible. This bootcamp aims to get you closer to Product/Market fit by focusing on the right actions which should be the most important priority of your team. For those interested in learning, you will certainly get the most by allocating time not just to attend webinars but also apply some of these ideas. A good target would be 20 hours a week - more is, of course better.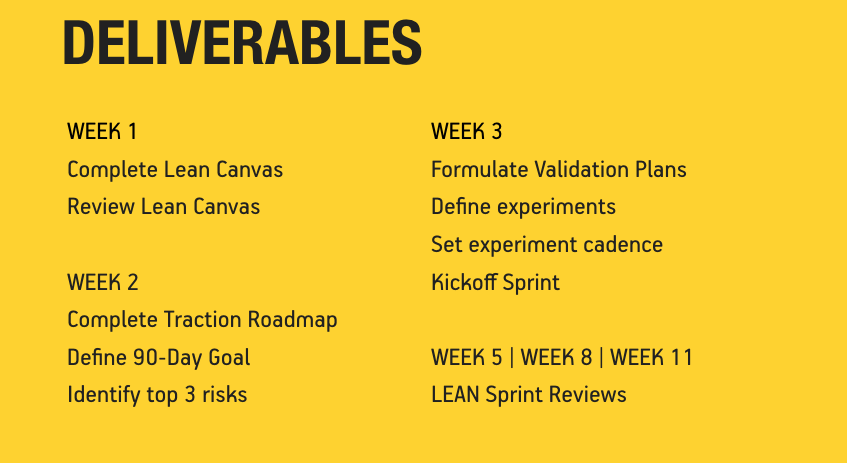 Do you help with implementation?
We'll provide you with advice, guidance, templates, and a list of 3rd party tools to speed up implementation. But we don't do the implementation work for you. This is not a course where we fish for you, but teach you how to fish.
I don't have a complete team. Can I outsource some of this to a consulting company?
In theory, yes. But be careful to establish the right working relationship. The nature of iterative LEAN Sprints is that learning comes in 2-3 week windows. This isn't conducive to fixed scope type of projects. You'll need your partner to be flexible and adaptable.